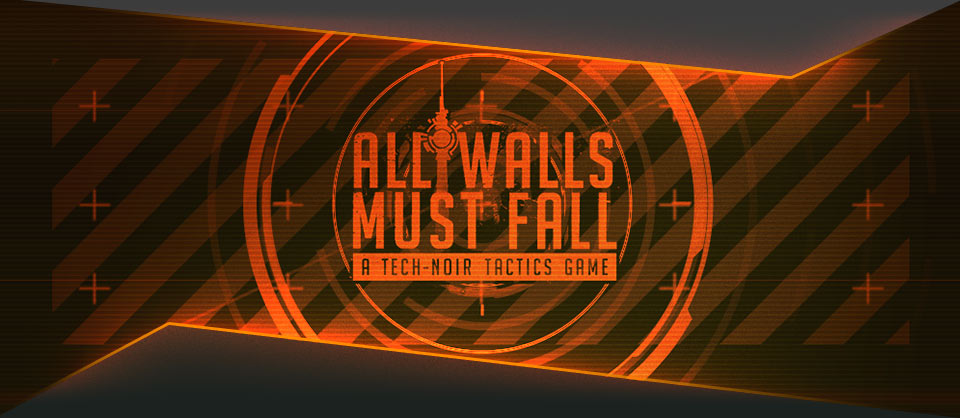 All Walls Must Fall
A downloadable game for Windows, macOS, and Linux
Berlin, November 2089: The Cold War never ended. For 150 years both sides have used time manipulation technology to observe and counter each other's every move. Now this fragile state of affairs is approaching a breaking point, as a rogue nuclear strike will send the world into turmoil. Both sides have scrambled to send agents back in time to find who is behind the attack and how to prevent it. If they fail, the whole world will turn to ash, forever.
"It looks delicious, like a propaganda-powered, post-Syndicate dream."
Rock Paper Shotgun

"All Walls Must Fall transforms the concept of the Doomsday Clock into a grid-based tactical action experience with procedurally generated missions and a focus on time travel - a techno medley of Syndicate, XCOM and Crypt of the Necrodancer."
Eurogamer

"It's a time-shifting tactical shooter with a fascinating core premise that, despite surface similarities to other titles, is quite unlike anything I've played in recent times."
Kotaku UK

All Walls Must Fall is an isometric tactics game where actions happen to the pulsing beat of the music. You control time travelling secret agents as they jump and loop through a single night in the city of Berlin. Using a pausable real-time system, carefully plan your decisions and use powerful time manipulation abilities to your advantage, as you carry out your mission in the shadows or in plain sight. Levels are procedurally recombined, giving All Walls Must Fall a highly replayable campaign structure, while still offering individually crafted components and set-pieces.
All Walls Must Fall takes inspiration from genre classics like X-Com, Syndicate and REZ, as well more recent indie games like The Banner Saga, Braid, SUPERHOT and Crypt of the Necrodancer.
Isometric action-tactics game for Windows, Mac and Linux
Hybrid real-time / simultaneous turn-based tactical gameplay
Procedurally generated levels and campaign that plays different every time
Sci-Fi noir Berlin as a divided city in which the Cold War never ended
Mind-bending time manipulation abilities that allow you to experiment with possible futures and rewind to the past.
Synaesthetic nightclub environments and audio
A simulation sandbox featuring crowd simulation and destructible objects
A parable that reflects on free will, moral ambiguity and the meaning of freedom
Developed by a team of former AAA professionals using Unreal Engine 4
Original Soundtrack
All Walls Must Fall features a killer soundtrack that reacts to the gameplay, and features original music from talented artists drawn from both the Berlin club scene and the world of video game music:
Jukio Kallio (Nuclear Throne, LUFTRAUSERS, Bleed 2)
Ben Prunty (FTL, Darkside Detective, Into the Breach)
Kuedo (Knives, Planet Mu)
The Orion Correlation and Lost & Found (Voidance records)
Mona Mur (Kane & Lynch 2: Dog Days, Velvet Assassin)
muuutsch (inbetweengames)
Early Access
All Walls Must Fall is still in active development, and you can buy the game today to get access and join the development process.
Why Early Access?
We're a small development team based in Berlin, Germany. We've been working on All Walls Must Fall since late 2015 after losing our previous project. We're all former AAA developers, and after working under NDAs and not being able to talk about our work, we've wanted to try open development for a long time. The game has been designed from the beginning with Early Access in mind, as we want to build a community of players who want to help us improve the game through feedback and testing. We believe a successful early access game should have the following:
A replayable campaign structure, where completing a playthrough is a challenge
Procedurally generated content, so you experience a different set of challenges every time
A polished, fun experience, right from the Early Access launch
Regular content updates during the Early Access phase
We've been running a Closed Alpha for our Kickstarter backers for a couple of months now, and we feel that the game is ready to be played by a wider audience, through Early Access.

Approximately how long will this game be in Early Access?
That depends on how development progresses and the kind of reception the game gets, but we expect to be in early access for at least 6-12 months.

How is the full version planned to differ from the Early Access version?
During Early Access, we aim to release content updates to the game every 4-6 weeks. We've launched two of these already, VANDALISM and DRONE WARFARE, each adding several new features (such as new enemies, missions, rooms, environment, weapons, music and narrative), as well as refining our existing systems and fixing bugs. The full version will include all these updates - you can get a taste of what we've got planned by checking out our Kickstarter stretch goals.

As we add more content to the game, we'll also adjust the length of the campaign accordingly. Currently, the game takes place entirely in East Berlin, and represents Act 1 of the game. We aim to add West Berlin as Act 2 during Early Access.

What is the current state of the Early Access version?
Each campaign playthrough currently takes about 1-2 hours to play (assuming you make it to the end). This takes the form of a number of missions, each taking place in a procedurally generated nightclub sandbox, and each with different objectives. The game features one player character, Kai, who has access to three time-travelling abilities and five different weapons. The soundtrack is a very important part of the game, and we currently have 8 tracks from 5 different artists.

As with any game in development, there will be bugs. There may even be blockers and crashes that prevent you from playing the game until we fix them. There is a good chance that when we do updates to the game, you will have to start a new campaign, as your save games won't be compatible with the new version. The game hasn't been fully balanced yet, and some parts may be too difficult (or too easy).

Will the game be priced differently during and after Early Access?
We don't plan on making any changes to the base price during or after Early Access.

How are you planning on involving the Community in your development process?
We're really excited about involving the Community during development. We want to hear your feedback, and see what aspects of the game you find the most exciting - as well as those which suck. In-game you'll find a 'GIVE FEEDBACK' button that you can hit at any time to send us a quick message. We'll also be reading everything on the Discussion Boards and will be active there as much as we can.
Minimum System Requirements
Windows
OS: 64-bit Windows 7
Processor: Dual-core Intel or AMD processor
Memory: 4 GB RAM
Graphics: DX10 compatible video card
DirectX: Version 10
Storage: 2 GB available space
Mac
OS: Mac OS X 10.11.6 or later
Processor: Quad-core Intel processor 2.5 GHz or faster
Memory: 8 GB RAM
Graphics: Metal compatible graphics card
Storage: 2 GB available space
Linux
OS: 64-bit OS
Processor: Quad-core Intel or AMD processor 2.5 GHz or faster
Memory: 4 GB RAM
Graphics: OpenGL 4.3+ support
Storage: 2 GB available space
| | |
| --- | --- |
| Published | 338 days ago |
| Status | In development |
| Platforms | Windows, macOS, Linux |
| Rating | |
| Author | inbetweengames |
| Genre | Strategy |
| Tags | 2D, 3D, berlin, Noir, Perma Death, Roguelike, Tactical, tech-noir, Time Travel |
| Average session | About a half-hour |
| Languages | English |
| Inputs | Keyboard, Mouse |
| Accessibility | Subtitles |
| Links | Homepage, Twitter |
| Mentions | itch.io Recommends: Fresh games for the ... |
Purchase
In order to download this game you must purchase it at or above the minimum price of $15.99 USD. You will get access to the following files:
awmf-win64.zip
Version Alpha.6862
279 MB
awmf-linux.zip
Version Alpha.6862
547 MB
awmf-mac.zip
Version Alpha.6862
472 MB
All Walls Must Fall Original Soundtrack.zip
54 MB
if you pay $19.98 USD or more