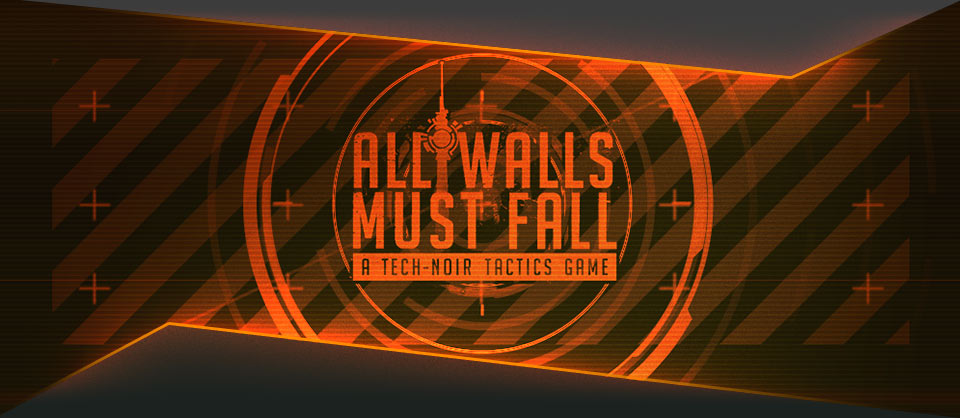 All Walls Must Fall
Update 7: BETA & RELEASE DATE!
---
Today we've hit a new milestone for the game: our BETA build! That means the game is feature-complete, and we can also announce the date when we plan on launching Version 1.0 of All Walls Must Fall: Friday Febuary 23rd.
We want to get as much feedback as we can from as many players as possible during the Beta, so the game is now 50% off on both steam and itch.io, for two weeks!
We've added quite a lot for this update, focussing on getting a state where we can really work on polishing the game before it's finished. For the next month, we'll be fixing as many bugs as we can and improving performance, as well as making balancing changes, putting in final art, and finishing off the in-game backer rewards. But we've made a lot of changes since Update 6, so let's dive into those!
Narrative and story

The primary focus for the month has been finishing Kai's story in East Berlin. All missions in the game are now part of narrative "arcs", each consisting of 3 missions. These are self-contained vignettes which tell their own story, and connect in some way to the TV tower bombing that sets the scene at the beginning of the campaign. A campaign now consists of 4 of these arcs, and after each one the Narrator will take away Kai to the Glienicke Brücke for a little debriefing.
Celebrity Portraits, NPCs and Collectibles

Our wonderful Celebrity backers provided us with images to turn into portraits, and those are now in-game! Each club has a celebrity NPC who will introduce themselves and welcome you to the club and the party happening there. You'll also find these portraits on other NPCs that you can talk to, as well as on Celebrity collectible IDs. We're really happy with how these have turned out, and want to thank our backers for both their support and their inspirational images!
New Mission: Identify Target

One of the new arcs contains a new mission type: Identify Target. Without giving too much away, let's just say you might think you're seeing double.
Campaign Leaderboards

Completing a campaign will give you a score that's posted on a global leaderboard! There's a separate board for both violent and non-violent playthroughs - see if you can beat David's score!
Neon club names

We've added a few new fonts to display the club names, in glowing neon!
New club sizes and layouts

We've setup the clubs to have a much bigger variety of sizes, with clubs getting larger and harder towards the end of the campaign. As well as that, we've improved the courtyard system to place courtyards in a bigger variety of sizes, shapes, and locations, to create much more interesting interior layouts. We've also made a few other small tweaks to ensure a better distribution of room sizes, as well as making sure the front and back entrances aren't too close together.
New room type: Storage Hallways

This new type of hallway can be found in the private areas of a club. They can make for some pretty exciting firefights and chases!
Enemies and Weapon Scanners

Harder clubs will now contain patrolling enemies from the beginning of a mission, and you'll also find Weapon Scanners throughout the club. These might not immediately alarm enemies when triggered, but they will create noise and any enemy that happens to come past will be alerted. We've also tweaked the composition of enemies a little to add a bit more variety - instead of randomly distributed enemies, you might find groups all carrying the same weapon, for example. Scope out your targets and plan your approach before opening fire for a better tactical outcome!
Drinks from Bartenders

When talking to Bartenders, they will offer you a drink! These drink names and ingredients were provided by our Backers. More work on the party backer rewards still to be done!
Identify Target escape vehicles

In the Identify Target mission, the targets can escape by getting to a particular spot outside the club. Those spots were previously invisible, which could be confusing. Now they're marked with these menacing vehicles. We know it can still be a bit hard to keep track of which targets have escaped, and if you've failed the mission as a result - this is something we aim to tackle in the next update (for other missions too!)
Exfiltration during combat now has a Drop
If you manage to get Kai to the Turbo Trabbi and Exfiltrate during combat, previously the mission would just end immediately. This could be a bit frustrating as you'd miss out on the Time Resource that you would receive during the Drop, which would affect your mission score and thus credits you'd receive. Now, the combat will automatically be Dropped, giving you full satisfaction.
Nudity and Profanity filter

We've added a new option in the Advanced settings to allow you to select censorship for Nudity and Profanity. Unnecessary censorship of nudity might actually wind up spicing things up even more, so beware! 🍆█
A few small bug fixes and balancing changes
You can see the full release notes here for the list of minor changes. As the focus for this month has been getting feature-complete though, we haven't spent too much time on this. Expect the list for version 1.0 to be much, much longer!

We'd like to thank everybody who's supported us during the Kickstarter, Closed Alpha and Early Access. It's our first time developing a game like this, and we've learnt a lot along the way. We really couldn't have got this far without you all, and the feedback we've received along the way has been absolutely invaluable. Keep that coming this month! We have a big backlog of bugs internally that we will be tackling, but if you have any major offenders, let us know - on the forums, on twitter, or by using the feedback button in-game.

Thanks,
inbetweengames.
Files
All Walls Must Fall: Windows 64-bit
576 MB
Version Beta.9136
Jan 26, 2018
All Walls Must Fall: Linux
990 MB
Version Beta.9136
Jan 26, 2018
All Walls Must Fall: Mac OS
746 MB
Version Beta.9136
Jan 26, 2018