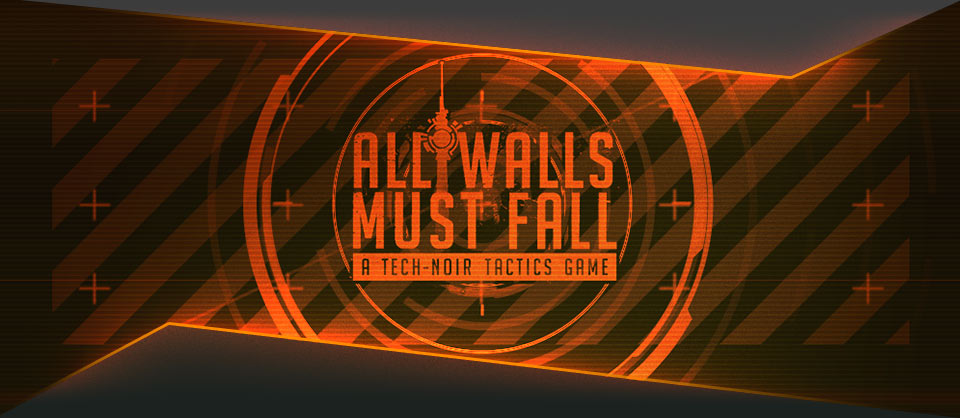 All Walls Must Fall
Today we're launching the 3rd major update for All Walls Must Fall since we launched the Closed Alpha, and the first update since launching on Early Access: BASIC TRAINING!
We've read a lot of feedback since launching on Early Access, and we've been watching the videos and streams that some people have been putting out. It's great to see people enjoying the game but we realised that a game was very experimental and unorthodox in some respects. So, this update we've focussed on making the game a bit more intuitive to play, as well as adding a new tutorial system and training missions that teach some of the core concepts and mind-bending time abilities. Check out the full change notes here.

New camera
The game now features a free moving camera. You can use the WASD keys or moving the mouse to the edge of the screen to pan around, Q and E to rotate, and the mouse wheel to zoom.




Camera and controls were some of the oldest systems in the game and the camera system we put in back then was more suitable to an action style of gameplay.

So, we went back to the drawing board, and thought about what kind of camera a tactics game should have. Now you have complete control over the camera, and can also use it to check out the club layout and see where you haven't yet explored, or work out the best exfiltration route back to your car. We've also added some UI markers that show you where the doors are at all times, to help with this.

Manual combat mode
You can now enter combat mode whenever you like, by drawing your weapon with the press of a button. You can also leave combat mode if there are no hostile enemies, and at the end of combat, you control when the replay drops. Once the combat is over, Kai will automatically reload all his weapons - so you don't forget.




Sometimes there are some bad guys who really don't like your face, but now if you run into them, you can get setup and begin the engagement on your terms, by entering combat mode and just start shooting.

All Walls Must Fall also features a combat-replay system, where after a combat is over, you "drop it", and watch the combat play out in real-time. Before, this would happen automatically. Now, once the combat is over, the game drops it on your command, giving you the possibility of using your time abilities to make adjustments to the timeline first, if you like.


Juicy combat replay camera cuts
Now during the combat replay - or "The Drop", as we call it - the camera will snap down into the action and show off your actions in real-time. A new HUD display will show you your combat rewards.




We've always wanted the drop to be as awesome as we can possibly make it. This is just a first step in that direction - and arguably still something of a prototype. We plan on improving both the camera, UI and score/combo system significantly in future updates.

Bindable controls
You can now bind keyboard controls as you like!
New tutorial systems
We've added a new system for "dynamic tutorials" which appear during missions. There are also special "training simulations" available when unlocking some items from the shop




We've added many (optional) tutorials that pop up during missions when you get into certain situations for the first time and let you know what's going on.

Even if you're an experienced player, you might still find the Training Simulations helpful - when you buy some items for the first time, you'll have the option of learning how to use that item in a special virtual room without consequences for your campaign.

Conversations in Dialogues
The dialogue UI now includes a history of the current conversation, and includes icons that inform you of what emotional reaction each conversation line had




The dialogue minigame involves trying to convince the target by manipulating their emotions. Now, you can easily look through a conversation and work out where it all started to go downhill - and if your opening chat up line was the problem, you can undo all the way back to then and start over.

We've also heard from a few people that sometimes the conversation doesn't really "make sense". The game uses a somewhat procedural system for selecting lines at each stage of the dialogue, so you get a different set of options each time. There are certainly situations where certain lines don't make sense as a response to what the NPC said, and we want to catch those. So, we've added a little button that sends us a report of your current conversation that you can press to let us know when it doesn't really make sense. Thanks for your feedback!


Kickstarter Backer club names!
We've added club names from Kickstarter backers at the Club Owner tier and above!


Campaign and mission tweaks
We've made a few small changes to the campaign structure to improve variety and replayability:
The first mission is no longer always "Kill Dragan Müller", but instead randomly chosen
Added some variety to the street furniture outside the club entrances
The position where Kai and the Trabbi spawn now varies
All missions now can have a variety of club sizes
Adjusted the maximum time resource
Adjusted the currency received after completing a mission
You can now restore lost health in the Shop
These are just some smaller tweaks that we put in to add a bit of variety to each playthrough. We'll be focussing more on this in our next update, RPG ELEMENTS, which will be coming in October!

Next update will be "RPG ELEMENTS" in October!
We think that this update gets us into a solid position regarding the core mechanics of the game, so next we want to focus on replayability and variety. That will be our next update, RPG ELEMENTS that will be coming in October.

In the meantime, let us know your feedback on the forums or in-game! You can now enter your email address when giving feedback in-game, and you'll be notified when we respond!




Thanks,
inbetweengames
Files
All Walls Must Fall: Windows 64-bit
576 MB
Version Alpha.6862
Sep 26, 2017
All Walls Must Fall: Linux
990 MB
Version Alpha.6862
Sep 26, 2017
All Walls Must Fall: Mac OS
746 MB
Version Alpha.6862
Sep 26, 2017