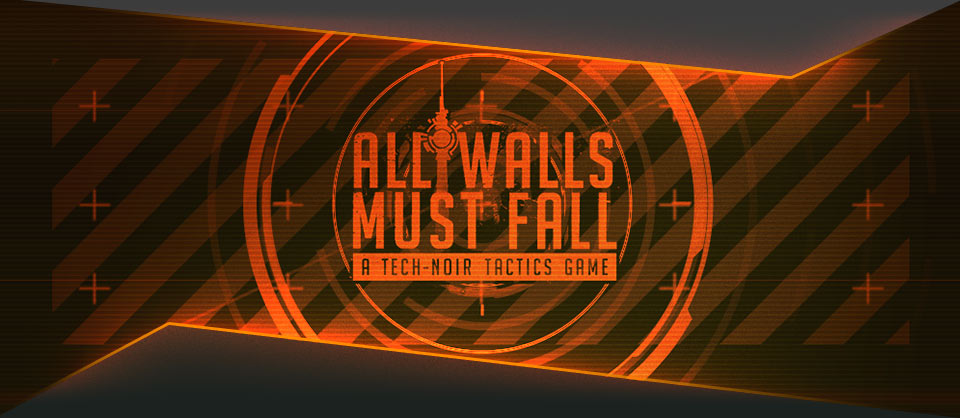 All Walls Must Fall
First Early Access patch released to address your feedback!
---
Everyone is at Gamescom - we're working on updates!
We just released the first patch to All Walls Must Fall addressing some of your most pressing feedback!
Top of the heap of changes are gameplay options for permadeath and the decision timer as well as some first player character animations for our main character Kai. So without further ado here is a list of the new features, changes and bug fixes in the patch..
New Features and Changes
New walking animations for Kai
New font for dialogues and ambient script lines
Added objective markers for more mission objectives
Offscreen enemies in explored rooms now get a marker
Objective markers are animated
Cutscene includes a prompt for pressing Enter to skip once any key is pressed
Tooltips are now always displayed on action buttons and display Time Resource cost
Added Permadeath and Decision Timer toggles to new gameplay options menu
Interactions now require confirmation when in combat
If player doesn't have enough Time Resource to hack something, the interaction is available and Kai will tell the player
During the combat replay, long sections where there are no combat actions will be sped up
Drone Terminals now cost Time Resource to hack instead of giving you Time Resource
Drone Terminals now always hack the closest drone
Friendly and hostile drones now move at double speed
Updated backer credits
Adjustments to tooltips, controls screen and some tutorial dialogues
Less confusing options menu checkboxes
Additional splash text informing about autosaving, permadeath and permahurt
Tool tip text adjustments
Added tutorial lines about damage avoidance in the intro mission
Renamed 'Dance' action to 'Wait'
Added Faceless script lines when additional enemy groups spawn
Added variations for public entrance outside area
Hacked drones now uncover hidden areas for you
Bug Fixes
Fixed issue where cursor would not display on some Windows machines
Music: fixed issue where sometimes "empty" loops would not get chosen
Music: fixed problem where sound would "pop" on some machines. Note: if you still get sound popping, try lowering the "maximum audio loops" slider in the Audio Options.
UI: fixed issue where weapon name text would be clipped
Added missing "cheering" dancing animation for dancers
Fix for Glienicker Brücke level not having shadows
No longer possible to get a Dialogue with no text
Combat replay won't trigger if player is dead
Fix for double tooltips being displayed sometimes
No longer possible to hack scanners and doors if there are no guards that will be alerted
Number of guards displayed on Weapon Scanner now only includes alive guards
Fix for some lab rooms sometimes having inaccessible tiles
Fix for "Start New Campaign" sometimes failing to generate a campaign
Fix for sometimes the Coat Checker would not have a dialogue even though the weapon scanner was active
Changed default anti-aliasing method to fix graphical issues
What's next? BASIC TRAINING!
Our first monthly update after launching on Steam Early Access will be addressing even more feedback from you! Based on your STOMTS, reviews, posts, messages and Let's Plays we've decided on our next themed monthly update to be: BASIC TRAINING!
We'll be introducing skippable tutorials for the somewhat unusual mechanics of the game as well as more advanced time travel and damage avoidance techniques some players might have been missing.
On top of that we will also introduce a more elaborate dynamic hint system in case you seem to be in trouble further down the line during a campaign or just want to jump right in.
Last but not least we'll tech Kai (and his enemies) even more moves and add proper animations for a lot more of their actions. Besides all that we'll also continue doing all kinds of small changes and additions to improve the game. So keep the feedback coming - it really helps us tremendously in making the game better!
What's the road ahead?
There will be more news to share soon but for now we just want to let you know that we'll keep updating and expanding the game with monthly updates until January 2018 at least - thanks to the support of our Kickstarter backers and Early Access supporters. So there will be more updates coming your way to keep the game replayable, expand and improve it further!
As always the more support we get from players the further we'll be able to take this. So please let your friends know if you enjoy the game! We'll let you know more about the road ahead once the BASIC TRAINING! update hits at the end of September.
Until then have fun with the patch, thank you for your support and keep sending us your feedback!
All Walls Must Fall! inbetweengames
Files
All Walls Must Fall: Windows 64-bit
576 MB
Version Alpha.5980
Aug 22, 2017
All Walls Must Fall: Linux
990 MB
Version Alpha.5980
Aug 22, 2017
All Walls Must Fall: Mac OS
746 MB
Version Alpha.5980
Aug 22, 2017